On this, Global Running Day we are delighted to be able to share stories of our clubs and members who have been doing some amazing work in their communities and further afield, through volunteering, working on the front lines or keeping people motivated and moving. Through our Club Heroes campaign we want to take a moment to say a huge thank you and celebrate these individuals and their clubs for supporting their communities, especially during the current lock down.
The next of our Club Heroes is from Monkstown Spartans AC: Peter & Sharon Lock.The husband and wife duo, Peter & Sharon Lock are both visually impaired and usually require a guide runner. During the current climate of social distancing, this has now become impossible for them, but, they have not let this stop them from running.Peter & Sharon were both set to run the Belfast City Marathon in early May, with Peter competing in the full marathon and Sharon running part of the relay. As this event was postponed, they decided to use their training to attempt their respective distances in their driveway.
On Saturday 2nd May both Peter and Sharon completed their set distances and raised over £2,200 for NI Scrubs. NI Scrubs is a community group of volunteers who have been using their sewing skills to provide front-line workers across Northern Ireland with scrubs, face masks and wash bags during the lock down.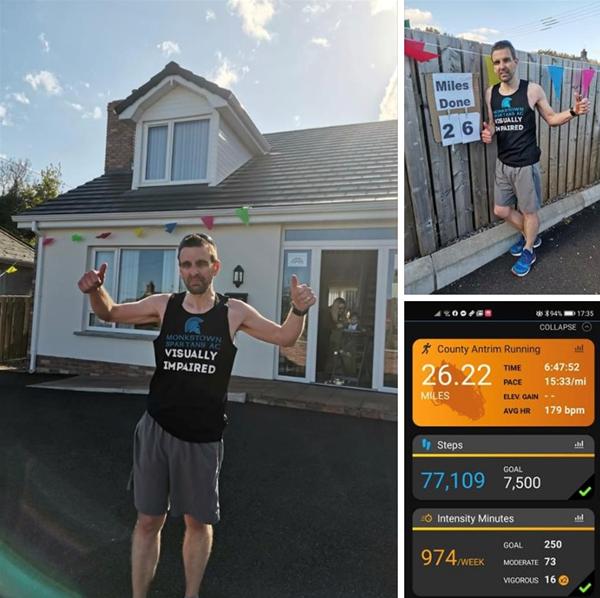 If you would like to nominate a person or group to be featured, please send the name of the person/ club you would like to nominate, along with a picture and a short description of the work they've been doing during lockdown to: shauna@athleticsni.org.