27 August 2020 from Athletics NI.
Building on improved infrastructure and new investment since 2019, Athletics Northern Ireland have today relaunched their academies to support the progression of talented 14-22 year old athletes.
The Youth Academy at Jordanstown and Coleraine and Speed-Power Academy are now open for applications for 2020-2021 and eligible athletes may also apply to receive enhanced services as part of a small core group to be supported by British Athletics.Due to the impact of Covid-19 on opportunities for junior athletes to compete all 2019/20 Academy athletes have been given the opportunity to re-apply and it is expected the majority will be retained. Capacity for new athletes will therefore be limited for 2020/21 but there will be some space and so all those interested are encouraged to apply.

Athletics NI Academies create an opportunity for Northern Ireland's best teenage athletes to train and learn together on a weekly basis.  In September 2014 Laura Kerr and Tom Reynolds launched the Youth Academy to support Northern Ireland's teenage athletes and their coaches through athletics training and education. Speaking today they said:

"We believe physical & technical preparation and a performance mind-set are critical to developing successful senior athletes and we must create a challenging, open and professional environment where athletes and coaches can thrive.  We aim to raise the profile of athletics in Northern Ireland and raise the performance of young athletes and their coaches by equipping them with the physical skills, mind-set and performance behaviours necessary to reach their full potential.  In doing so we believe Northern Ireland can develop a pipeline of junior athletes who will become successful seniors representing Northern Ireland at the Commonwealth Games and Great Britain & NI or Ireland at major championships."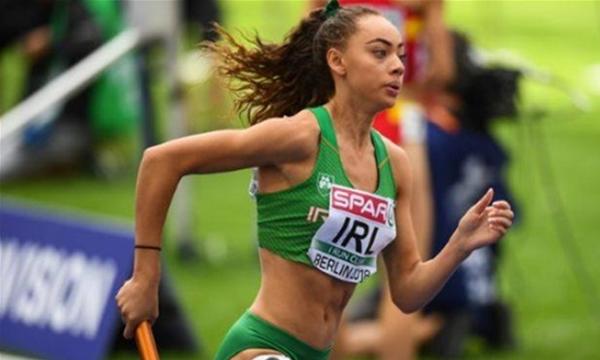 In recent years the Youth Academy has refined an athlete development curriculum and gained significant investment from the European Union for international camps. We have seen remarkable progress from the current generation of teenage athletes with two Commonwealth Youth Games Gold Medals in 2017, three teenagers representing Northern Ireland at the Senior Commonwealth Games in 2018 and five top 5 finishes at The European U20 Championships in 2019 as well as a host of major medals and national records from athletes, including Sommer Lecky, Kate O' Connor, Jack Agnew and Eve Walsh-Dann.  Athletes including Aaron Sexton, Megan Marrs, Davicia Patterson and Ellie McCartney have played their part in re-writing the record books.
For 2020-2021 Laura Kerr will continue in her role of managing services and curriculum delivery for academy athletes and coaches, Amy Foster is the Pathways Coach and Administrator, Tom Reynolds will lead on policies, selection and individual athlete planning and Dean Adams will continue to be the manager and lead coach at the Coleraine Academy. Evan Burke and Stephen Haslam will continue to provide physiotherapy at Jordanstown and Coleraine. Enhanced funding has again been received from Erasmus+ for 40 Academy Athletes to complete warm weather training in 2020 & 21 and additional funding will also be in place to support a number of personal coaches to join them.
Athletes and coaches showing the most engagement and progression will be given this opportunity in order to refine their training and performance behaviours prior to upcoming championships which will include: European U18 Championships (Reiti) 2021; World U20 Championships (Nairobi) 2021 and European U20 Championships (Tallinn) 2021. New innovations for 2020/21 will include bespoke athlete training diaries and a generous sponsorship from Little Rays Nursery will ensure each athlete and coach receives some Youth Academy kit.
For 2020-2021 athletes aged under 23 years old will be eligible to apply for support and inclusion in one of our three academy groups:
Youth Academy Core
Youth Academy
Speed Power Academy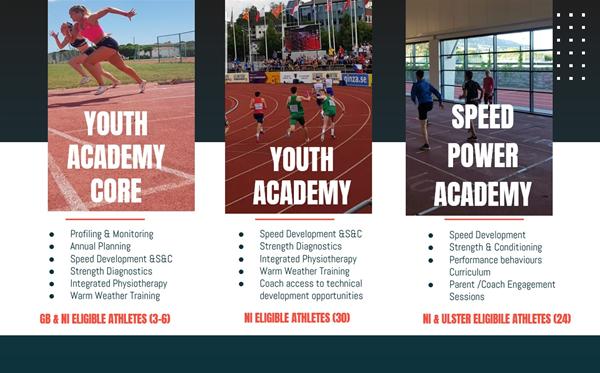 ACADEMY CORE
The Youth Academy Core was launched in 2019, made possible by an investment from British Athletics as they have providing funding for the talent systems of each home country for 2019-2021 in order to increase the pipeline of U23 athletes achieving the standards for the British Futures Academy and going on to represent GB & NI at major championships. A continued investment from British Athletics into the Youth Academy for 2020/2021 will allow enhanced and bespoke support for 3-6 selected Youth Academy Athletes who are eligible for future selection for Great Britain & NI. This enhanced support will include additional profiling, coach support with individualized planning and the possibility of additional physiotherapy and coach attendance on camps. Entry into the Youth Academy Core does not commit the athlete to subsequently competing for GB & NI and the athlete would still remain eligible for GB & NI or Ireland until accepting selection for a future major championship.
YOUTH ACADEMY
The Youth Academy which has proven popular and successful with bases at Jordanstown and Coleraine delivering physical preparation and athlete education sessions will continue with new innovations for 2020-2021 as outlined above.
SPEED POWER ACADEMY
The Speed-Power Academy, which launched in 2018, was set up to expose athletes aged 14 years+ from all events (sprints, jumps, endurance and throws) and their coaches, to the basic physical preparation concepts behind Youth Academy with the aim of helping athletes transition successfully to event group training. This academy will help support athletes from NI and the additional 3 Ulster counties. Athletes will be supported with weekly speed development and strength and conditioning sessions led by Athletics NI staff. Additional support this year will include a minimum of 3 bespoke educational workshops as well as an introductory movement screen and feedback for each coach.  Monitoring via electronic timing will be ongoing throughout delivery with timely feedback to coaches.
To be successful in their academy applications athletes, their parents and coaches will need to demonstrate how the support and services on offer will progress their athletic development. Athletes will be assessed for inclusion based upon their performance standards and performance potential.
Successful applicants for Youth Academy or Youth Academy Core to be based at Jordanstown or Coleraine will be asked and expected to attend the one off baseline screening and monitoring day at Ulster University Jordanstown on 19th September between 12.30 & 5.30 pm with their parent and coach.
Academy Application Form (Word)
Academy Application Form (PDF)
Our Academies are Proudly Supported by: