NI & Ulster Age Group U14-U17 Championships
This year's U14-U17 NI & Ulster Age Group championships took place over the weekend at the Mary Peters track, as usual, however with limited spectators, social distancing rules and many track races run as time trials, the event was unlike any previous championship. While the atmosphere at the track may have been distinctly subdued, some of the performances by the club's juniors were most definitely not.
Training for all track and field athletes has been difficult over recent months, with training venues closed and face-to-face coaching very limited, it has been a particularly difficult time for the technical events such as hurdles, jumps and throws because they, more than any other group, require specialist equipment and training facilities in order to train. So it is a testament to both the athletes and coaches that it was the throwers who produced many of the best results across the weekend.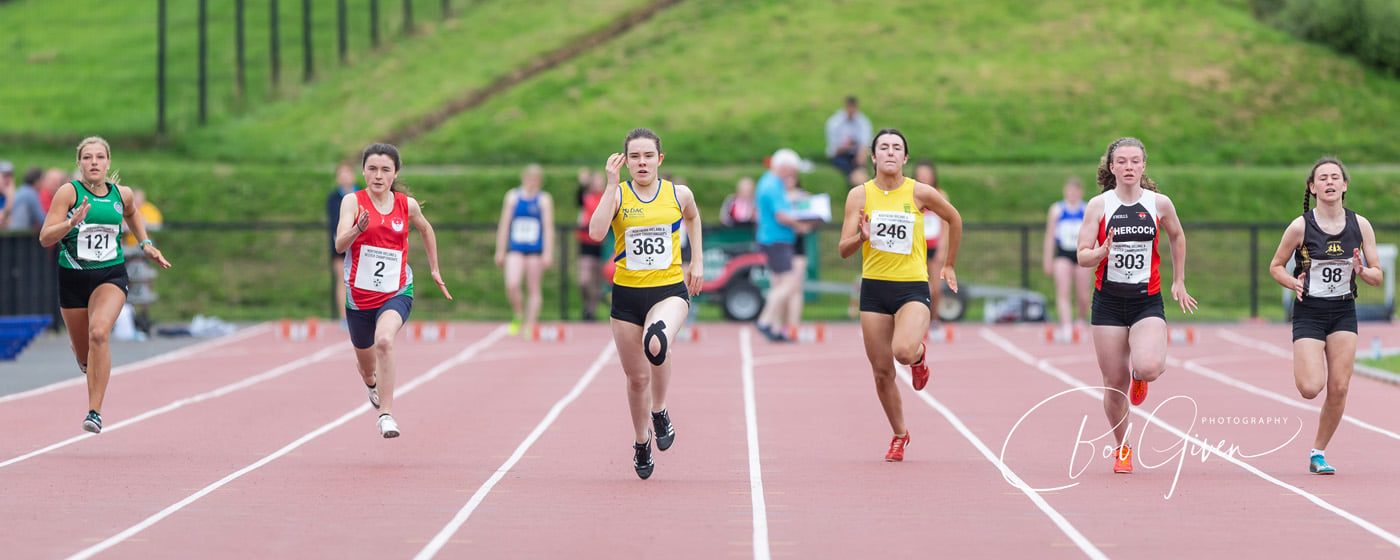 Anna Cousins produced two very strong performances in the opening sprints, taking silver in the U15 100m and 200m with times of 13.67s and 28.32s, respectively. Having aggravated a long term knee injury at training last week, there was a doubt whether Lucy Kerr would be able to compete at all, however, she made it to the start line and was rewarded with a bronze medal after winning her heat of the U16 100m in 13.15s and finishing 3rd overall. Rory Fulton's continued commitment was rewarded with two lifetime bests and two medals. The U16 100m was a straight final in which he took bronze with a new PB of 12.43s. Another bronze followed later in the day after finishing 2nd in his heat of the U16 200m and 3rd overall in another PB of 24.75s.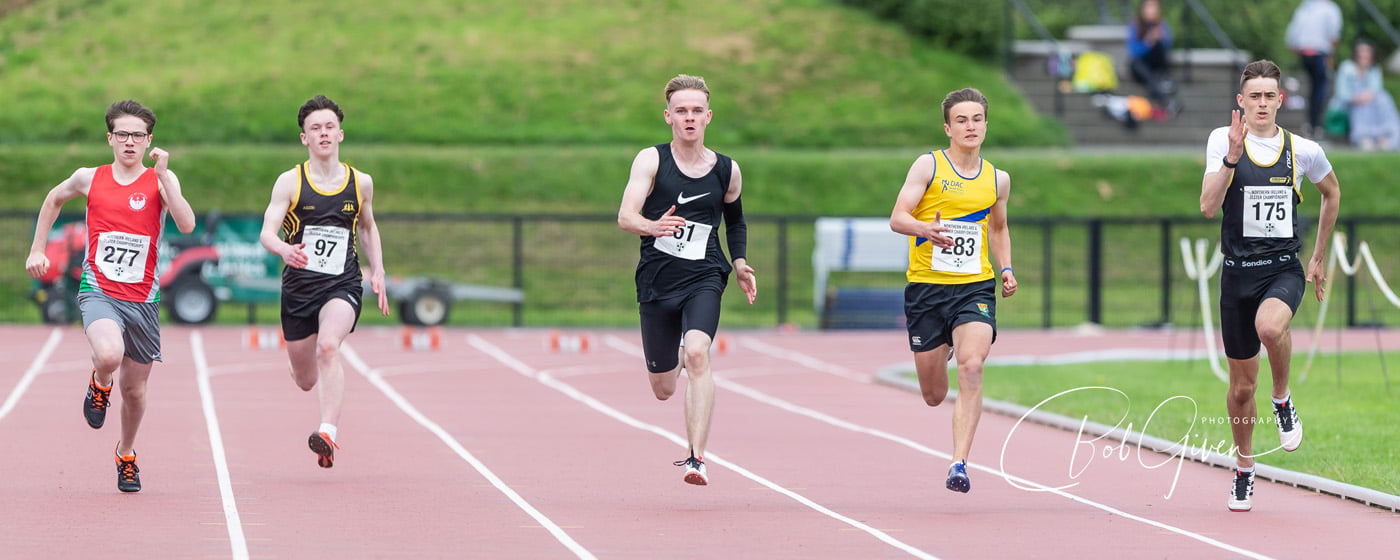 Morgan Wilson set a new PB of 14.84 in the U16 100m heats, while Stephanie Bell clocked 13.91 to finish 3rd in her heat and 4th U15 overall.
Rebekah Laffin continues to improve, and clocked an excellent 2:32.64 for 4th place in the U14 800m, Lucy Cheatley claimed a new PB of 2:32.16 while placing 9th in the U15's, with Mac Eager (2:38.38) 13th in the same race, and Ryan Lynas finished 6th amongst the U16 boys with a brilliant 2:07. Tara McDonough (2:33.19/4th) edged club mate, Tori Galloway (2:36.94 5th), in the U17's 800m, with both later recording the same finishing positions in the 3000m, Tara clocking 11:35.33 and Tori 11:36.43.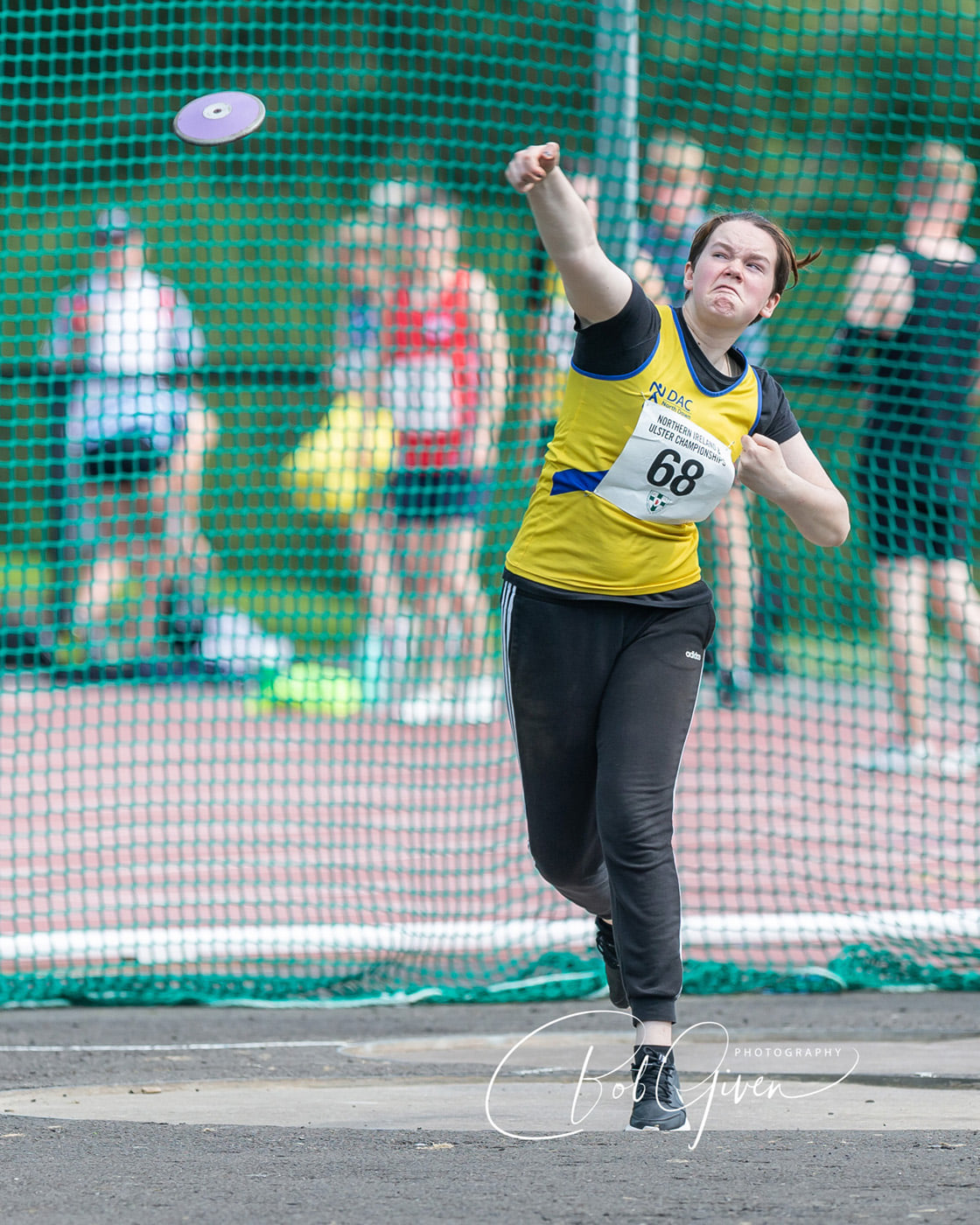 The outstanding performance of the weekend was undoubtedly provided by Charlie Lawden in the U16 javelin (600g). Having already improved his PB by a massive 7m at the recent City of Lisburn Invitational, Charlie added a further 1.5m to take gold in emphatic style with a superb throw of 45.77m. Not to be outdone, Charlie's younger sister, Hannah Lawden also set a new PB to take gold in the U15 javelin (400g) where she was a runaway winner with a best throw of 25.39m, over 7m ahead of her nearest rival. Morgan Wilson (24.38m) was 4th amongst the U16's and Niamh Fenlon 7th with a best effort of 19.57m.
In the U14 age group, Kate Fenlon added to her impressive list of throws medals and titles by winning the javelin (400g) with 27.55m and taking silver in the discus (0.75kg) and shot (2kg) with throws of 24.74m & 11.57m, respectively. Despite some recent injury worries, Kate's older sister, Niamh Fenlon, also got in on the act by taking silver in the U16 shot (3kg) with a best effort of 11.18m, Beth Hammond threw 10.04m to finish 4th in the same competition, while Stephanie Bell improved her PB by almost a metre to win silver in the U15 shot (2.72kg) with a throw of 10.19m. In her third event of the weekend Niamh Fenlon finished 4th in the hammer with a best throw of 24.46, Rebekah Laffin was 15th in the long jump with a leap of 3.08m and Morgan Wilson claimed 6th in the high jump with a clearance of 1.25m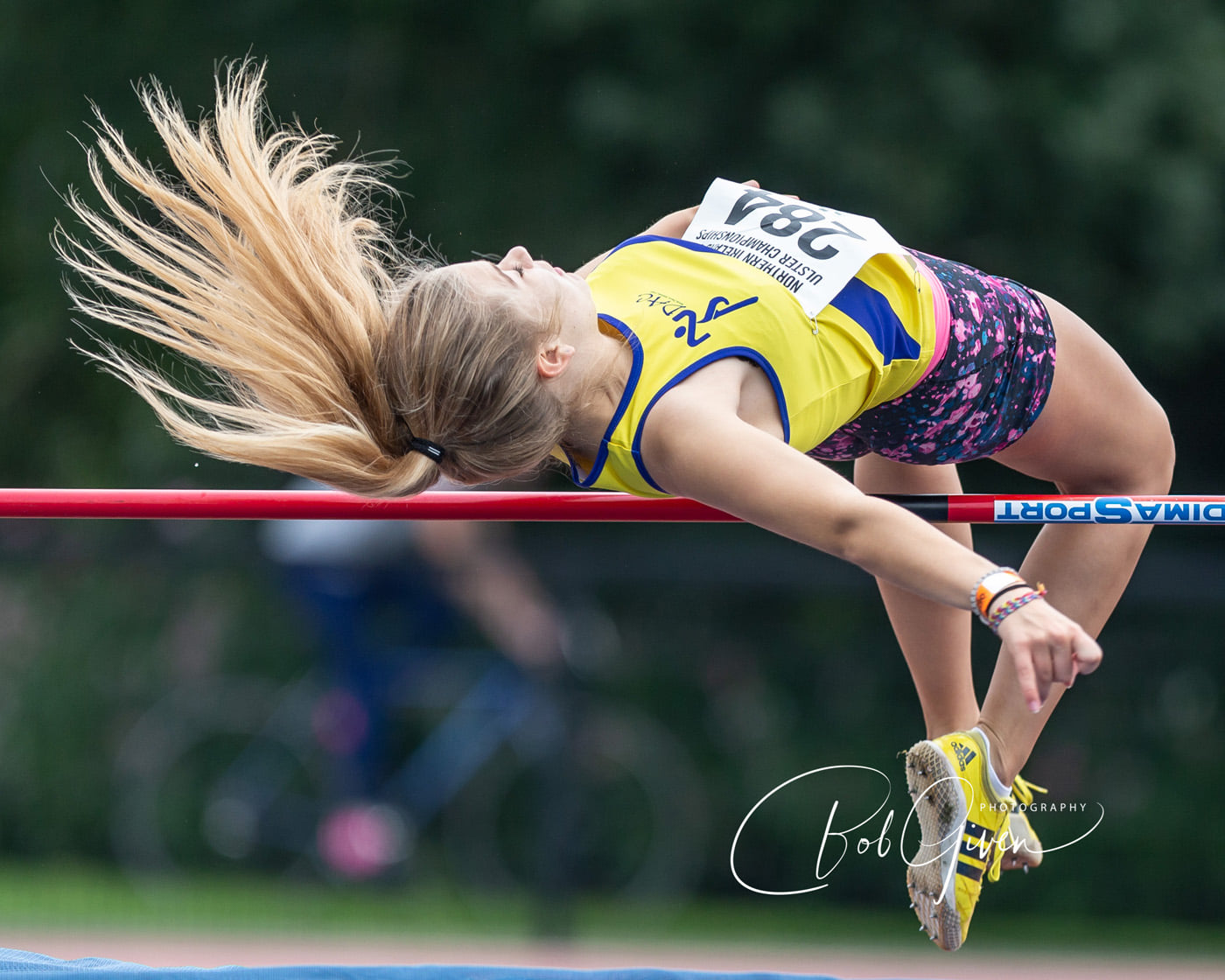 NI & Ulster U14-U17 Championship Results
City of Lisburn AC Track Meets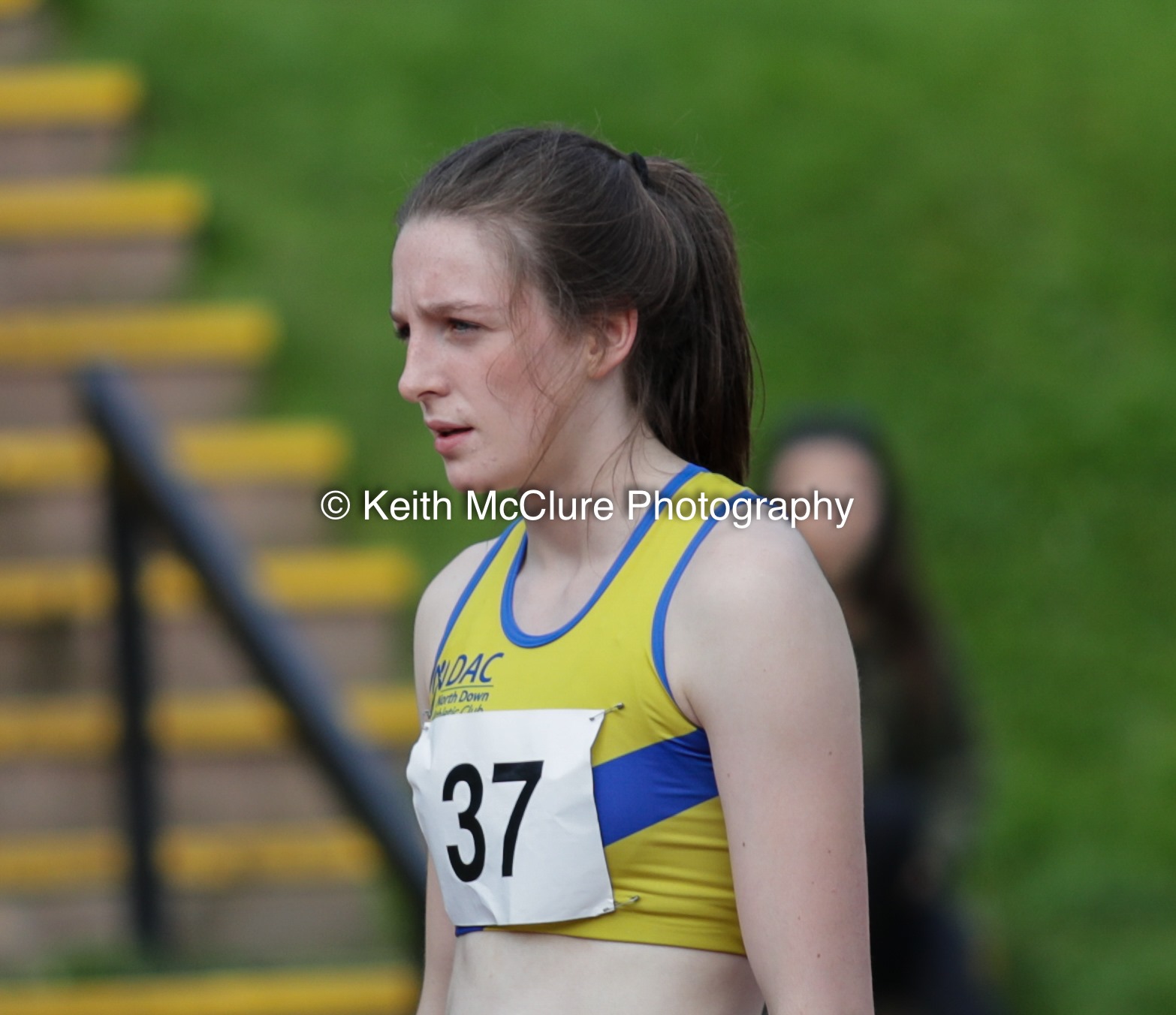 Having lain dormant for much of this season, the Mary Peters Track has witnessed a late summer resurgence, thanks to the good people of Lisburn AC who have delivered a series of stellar line ups and excellently organised events on each of the last three Thursdays.
The second night of the series (Thursday 6th) was a successful one for Rose McCreevy, the young athlete claiming 2nd in the 100m with a time of 13.38, before going one better in the 80mH, taking the win by just 0.04 of a second in 12.31. Ben McConkey was also in great form, following up a 12.87 (2nd) in the 100m with 4th in the 800m with a time of 2:31.13. Rachel McCann took on the 200m and placed 3rd in an impressive time of 25.25, with Aimee Stitt 7th in 27.12 and Megan Briggs 2nd in the B race with a time of 27.09. Troy McConville (23.45) placed 5th in the 200m, Jack Logan claimed another PB in the 1500m, finishing 8th in 4:26.01, while  Murphy Millar (4:41.20/10th) had to be at her very best to claim her own PB and edge Rachel Gibson (4:45.36/11th) in the ladies race.
In a combined javelin event Charlie Lawden (44.09m) PB and Troy McConville (41.84m) performed admirably to claim 3rd and 5th respectively, Ben McConkey was 2nd in the U14 long jump with a leap of 4.83m, while Benjamin Neil saved his best for the last round of the U17 competition, before taking the win with a closing effort of 5.51m.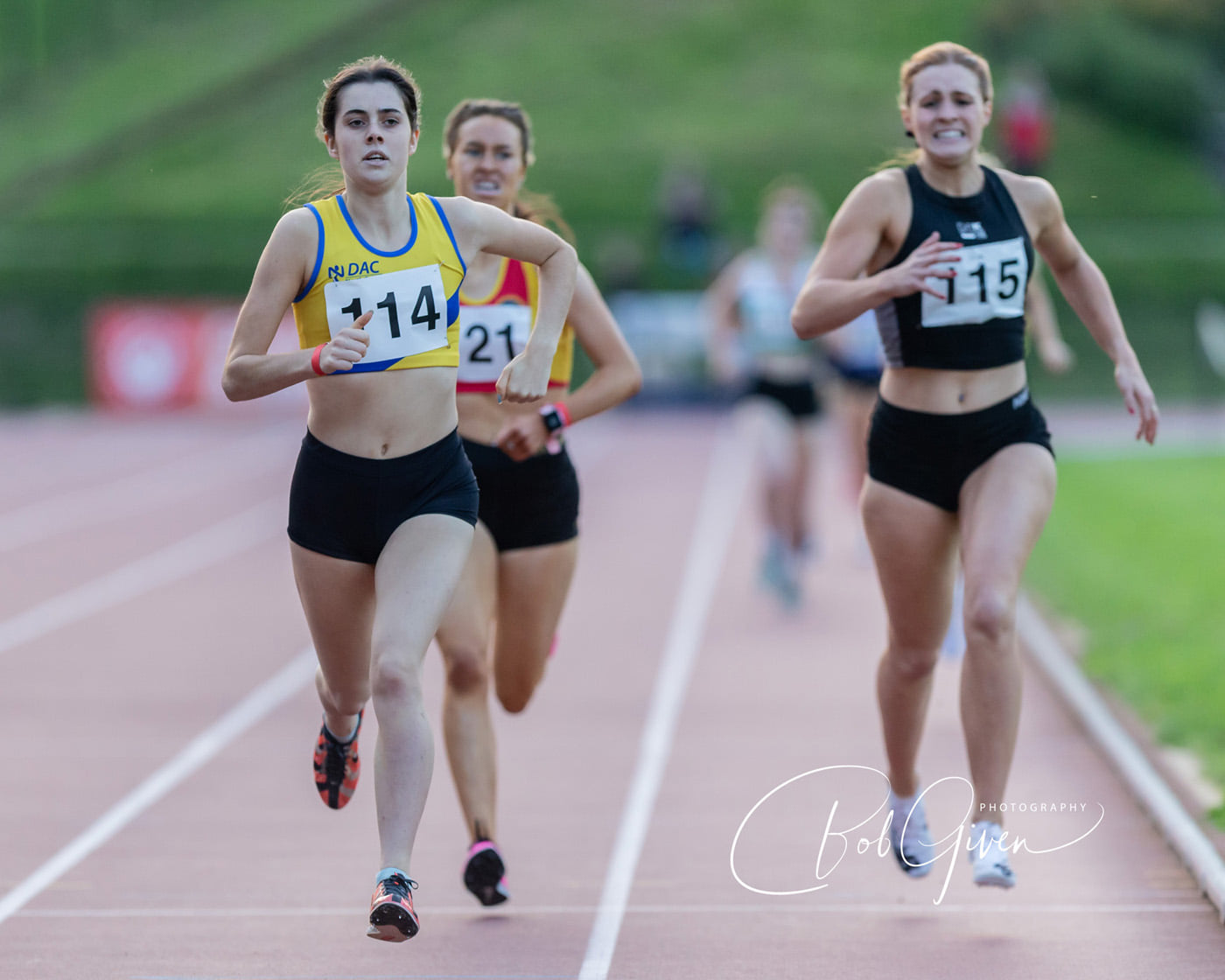 Thursday 13th August delivered another pleasant evening, more high quality fields, and another opportunity to put lockdown training to the test, as Lisburn Ac brought the curtain down on their highly successful series. From a North Down perspective Murphy Millar was again in eye catching form, this time over 800m, outlasting her opponents down the home straight to take victory in the B race, with a new PB of 2:13.38. Rachel McCann was also in good nick, 57.12 good enough to take the win from a 200m race that also featured Megan Briggs (62.55) in 3rd place. Troy McConville completed a sprint double with 3rd in the 100 B race in 11.49 and 4th in the 400m A event in 51.42, while Lexx McConville was the club's sole representative in the field events, eventually claiming 3rd in the high jump with a best clearance of 1.80m.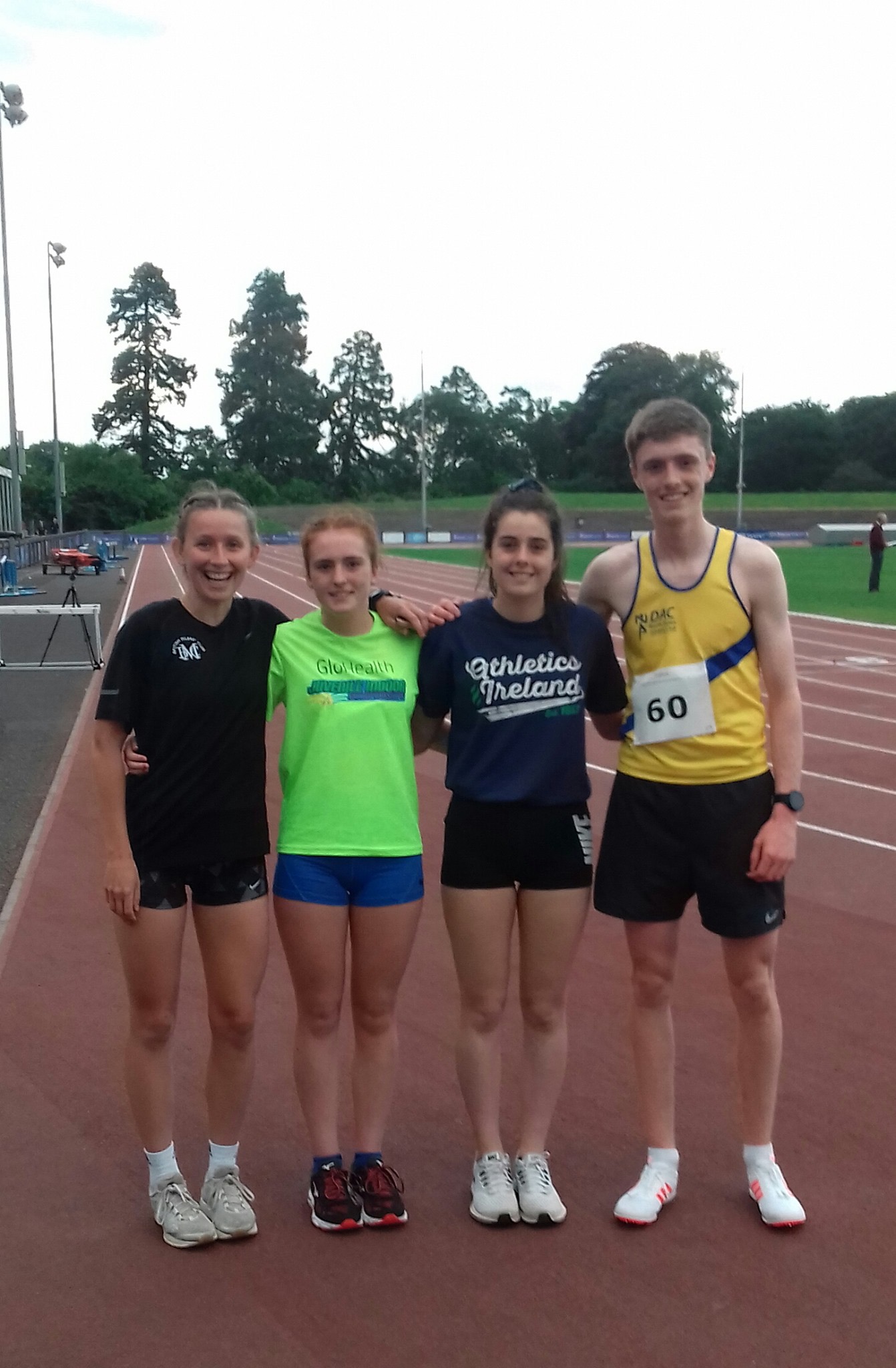 Katie Moore, Bryanna Catney, Murphy Millar and Mark Carberry – 2019 Dublin Open
At the Dublin Open (meet 2) in Tallaght, the ever improving Mark Carberry finished 3rd in the 800m B2 race with a new PB of 2:04.97, while Bryanna Catney was 7th in the BC event in 2:33.34. Bryanna was again in fine form at the same venue the following week with a time of 69.28 in the 400m.
Glenarm 5k/10k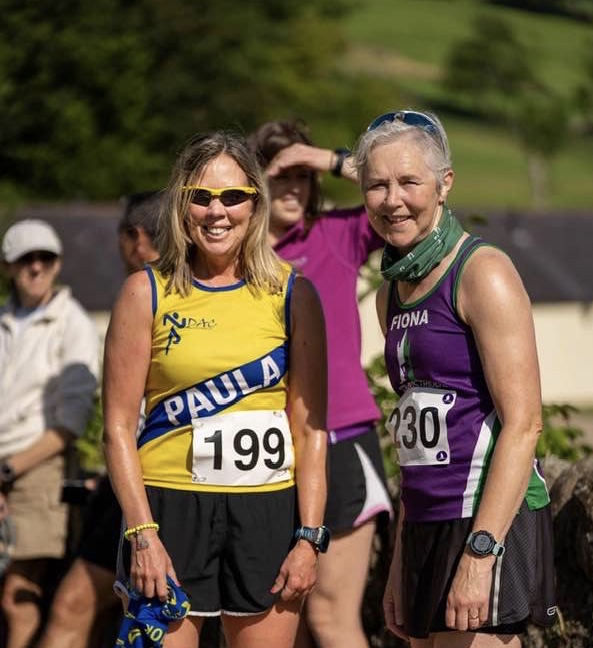 The picturesque surroundings of Glenarm Castle provided well over one hundred athletes with the opportunity of a return to competitive action recently, albeit in a socially distanced third round of the popular Champion Chip Ireland Series. Having hosted events at flat and fast routes around Down Royal and the Eikon Exhibition Centre, the most recent offering challenged competitors with something a little bit more undulating alongside the scenic Antrim coast, with two North Down athletes eventually deciding to toe the line.
Terry Eakin maintained his position in the overall race series (as calculated by cumulative age graded percentages) with 21:55 in the 5k option (30th place), whilst for Paula Simpson it was a first return to racing and a well paced 29:49 in the same event.
Seven Sisters Skyline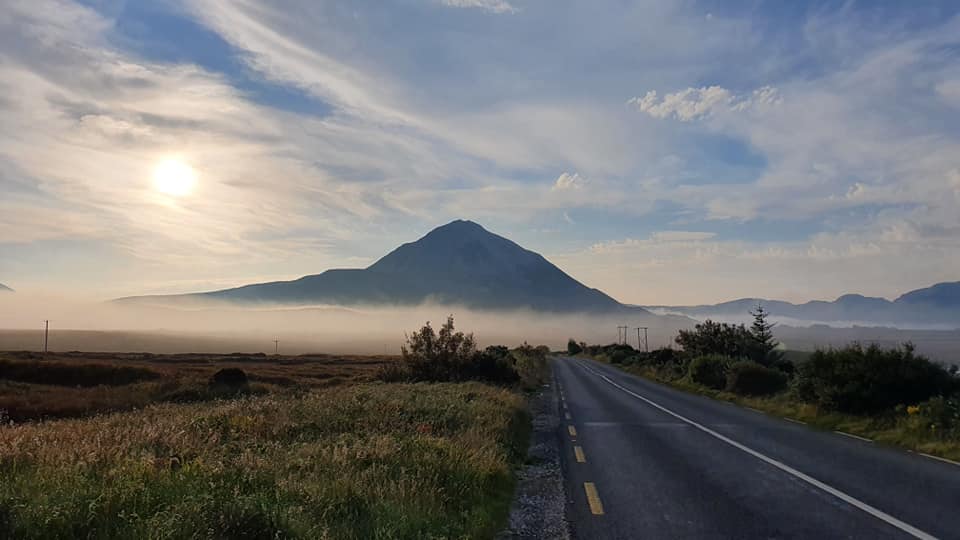 Robert Eadie is no stranger to this North Donegal mountain race having completed the stunningly beautiful course in 2019, and this year he decided to bring a friend, persuading fellow club member Kevin Mulligan to join him in the 26km event. As luck would have it only the 50km race went ahead as planned, the shorter option falling foul of COVID restrictions, but with competitors encouraged to complete the course in their own time, our intrepid adventurers set out to claim their medal and thought it best to take advantage of a day when the course was marked out and aid stations were available if required.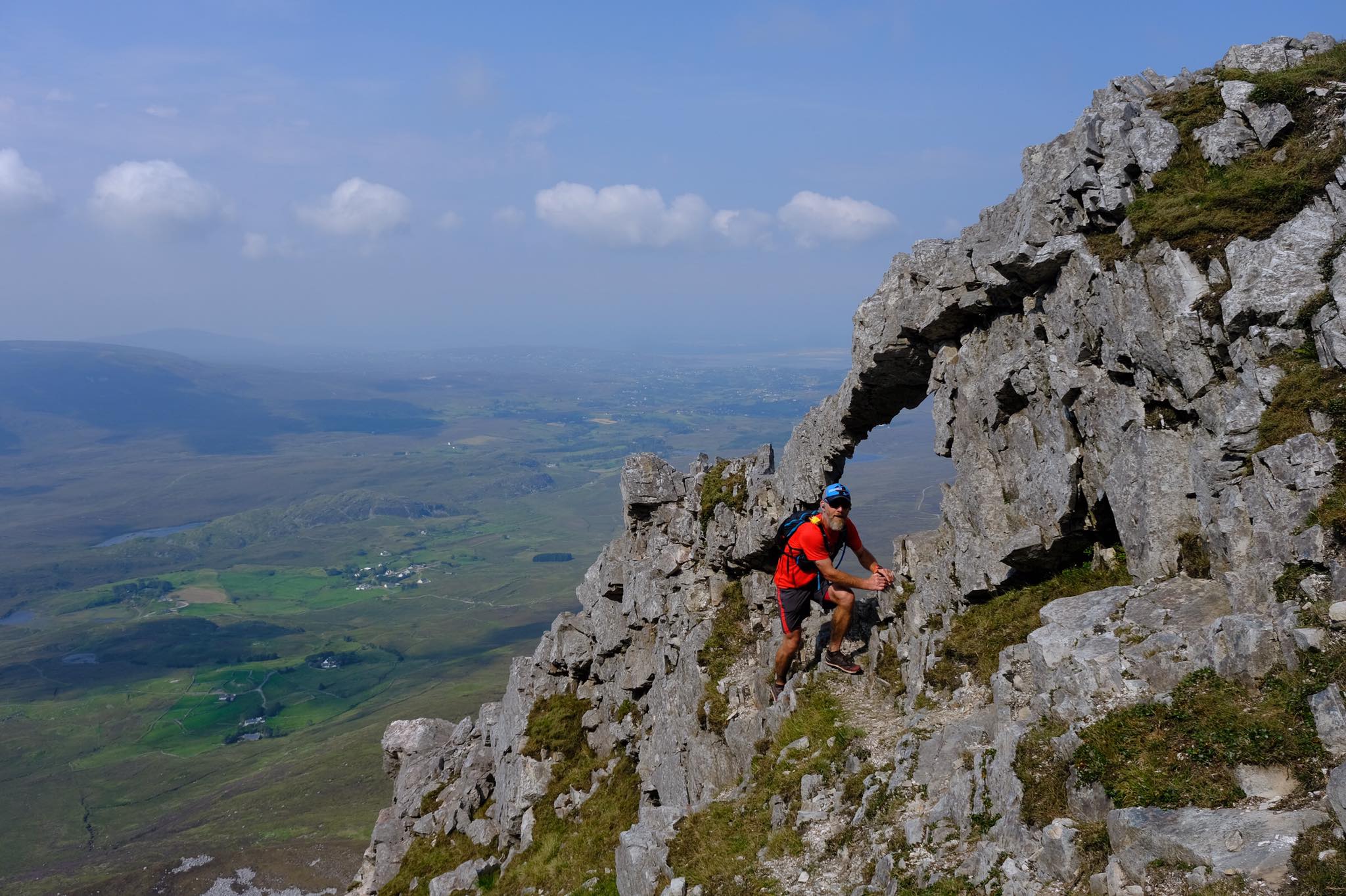 Photo by Rory O'Donnell
In a sure sign that their luck had changed the men set off on a picture postcard Saturday morning amid scenery that would almost have taken the mind off having to navigate some of the county's highest peaks, including Errigal (751m) and Muckish (667m). The challenge required runners to navigate their way to a series of checkpoints, recording their progress along the way to the finish, and despite adding a few kilometres to the total from their chosen starting point, it wasn't a day to pay much attention to pace and time, both men eventually clocking up 31km in 6:32:41 and proud to receive their finishers medals from event organiser, Eunan Quinn, at the finish line.