22 May 2020
Athletics NI are excited to launch another series, focusing on the 'Development of Speed & Power Athletes' where we will host renowned coaches: Dan Pfaff, Fuzz Caan, Benke Blomkvist, Trevor Painter and Nick Garcia.
As registrations for the 'Art & Science of Coaching Running' webinar series reach 1000, Coach Development Lead, Laura Kerr said: "I am very pleased with the interest in our webinars so far and we have sought to bring another international line up of World Class Coaches to our second series, which will focus on the Speed & Power Events."The  second series of webinars, which are now open for free registration, will feature expert coaches who have led dozens of athletes to Olympic & World Medals as well as High School and Collegiate success. "I am very grateful to each of these world class coaches for agreeing to join us and look forward to hosting them. Each webinar will be strengthened by high quality questions from our local coaches and we look forward to interactive opportunities within the sessions as we continue to strengthen our coaching community in Northern Ireland."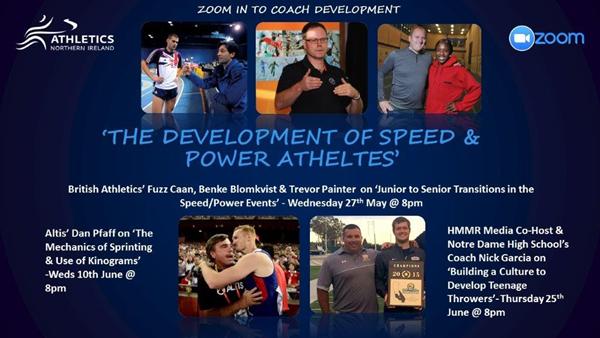 British Athletics' Fuzz Caan, Benke Blomkvist & Trevor Painter  on 'Junior to Senior Transitions in the Speed/Power Events' – Wednesday 27 May @ 8pm  Register here
Fuzz Caan, Benke Blomkvist and Trevor Painter work with the best of British Athletes and will reflect on their collective experiences to discuss the challenges talented junior athletes and their coaches face in transitioning to senior success and how best to navigate these. This webinar will be equally as relevant to parents as to coaches.
British Athletics National Senior Performance Institute High Jump Coach, Fuzz Caan has coached two Olympic Medallists – Jermaine Mason, who won Silver in Beijing and Robbie Grabarz, who won Bronze in London. Fuzz currently coaches a number of GB's top Junior and U23 jumpers and guided Morgan Lake through her transition to Senior Athletics, where she won Commonwealth Silver and set a British Indoor Senior Record of 1.97m.
Fuzz will be joined by Benke Blomkvist who is the British Athletics National Senior Performance Institute Sprints and Hurdles Coach.  Benke has been key in much of British Athletics sprints success over the past five years including being part of the coaching team that led the Men's 4x100m Relay Team to Gold at the 2017 World Championships and coaching Andy Pozzi to World Indoor 60m Hurdles Gold in 2018. In his native Sweden he coached the Kallur twins as juniors, with Susanna going on to break the 60m Hurdles World Indoor Record as a senior.
Completing the trio will be Trevor Painter. Trevor Painter is the current British Athletics Pathway Coaching Lead, perhaps better known for his success as coach to World & European Medallist-Jenny Meadows.  As well as his success with wife Jenny, Trevor guides a squad of Wigan based athletes which includes a host of junior athletes as well as Mariyln Okoro.  In his role as British Athletics Pathway Coaching Lead, Trevor is responsible for the identification and development of junior athletes who have the potential to progress into successful senior medallists at the Olympic & Paralympic Games. Trevor was set to lead the British U20 team to the World U20 Championships in Nairobi this year before the outbreak of the pandemic.
************

Altis' Dan Pfaff on 'The Mechanics of Sprinting & Use of Kinograms'
Wednesday 10th June @ 8pm Register Here
Dan Pfaff has coached 49 Olympians including nine medalists, 51 World Championship competitors and five world-record holders. He has directed athletes to 57 national records across a multitude of events. Dan has served on five Olympic Games coaching staffs in five different countries and nine World Championships staffs for six different countries. He has lectured in 27 countries and is published in over 20 countries.
During his NCAA coaching career, Dan has coached 29 NCAA individual national champions and 150 All-Americans, and has been a lead staff member on teams that have won 17 NCAA National Team Championships, fifteen women and two men. During a successful three year stint in London with UK Athletics, Dan coached Long Jumper Greg Rutherford to Olympic Gold and later guided Goldie Sayers to a British Javelin Record.
Dan will lead coaches through a webinar focused on analysing the mechanics of acceleration and maximum velocity sprinting. Dan will use video demonstrations and kinograms to discuss critical shapes and landmark positions and will explain factors that drive individual athlete differences and how these influence the individualisation of training. Coaches will come away with an improved understanding of  how and why to use kinograms to analyse sprinting as well as the different types of sprinters you may be dealing with in your squads.
************
HMMR Media Co-Host & Notre Dame High School's Coach Nick Garcia on 'Building a Culture to Develop Teenage Throwers'
Thursday 25th June @ 8pm Register Here
Nick Garcia is one of the leading high school coaches in the United States. He has served as the strength coach and throws coach at Notre Dame High School in Sherman Oaks, California since 2003. As of 2018 he has coached 17 school boys over 16.50m in the shot put using both the spin and glide techniques. He has also coached two school girls over 15 meters.
Garcia was a shot putter himself. As a student at California State University Northridge, Garcia was a two-time Big Sky conference champion in the shot put. In ten years of post-collegiate training he increased his personal best to 18.35 meters. By shot put standards, he was not the typical thrower at just 5-foot 7-inches tall but Garcia explains his toe nails to fingernails approach to conditioning..through better coordination and athleticism, athletes can produce more on the field, and stay healthier throughout the process."
With a bachelor's and master's degree in Kinesiology, IAAF Level 5 certification, CSCS certification, and USA Weightlifting credentials, Nick is an experienced presenter on both strength training and throws training. Nick will lead this unique webinar explaining his philosophy for athletic development and how he has built such a  thriving culture for the development of throwers at Notre Dame High. Nick will also share his experience on developing dual sport athletes through the teenage years.
Source : Athletics NI