From Athletics NI.
2020 marks the tenth year of Flahavan's partnership with Athletics NI, which has seen the Primary School Cross-Country League grow into a much-anticipated annual event.
Over the past 10 years a total of 43,380 children from 391 schools have taken part in the league with a 60% increase from 2010 – 2020
The League started as the 30,40,50 Club and quickly grew in numbers so that in 2008, the Primary Schools Cross Country League held it's first official final. Flahavan's Porridge came on board as the Official Sponsor in 2010 and since then the League has grown from strength to strength.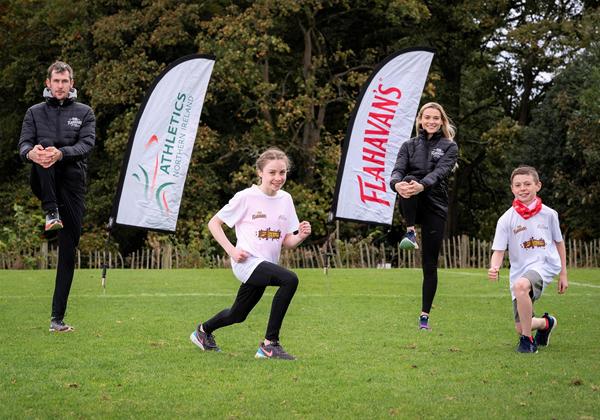 This year, Irish Athletics Bronze Medallist, Katie Kirk, the first Flahavan's Athletics NI league ambassador from 2010, will return for this year's anniversary celebration. Katie will join Paralympic Gold Medallist Michael McKillop to support this year's league.
Catherine Ashford, Events and Commercial Manager, Athletics Northern Ireland, explains how this year will work:
"Athletics NI is delighted to announce the 10th anniversary sponsorship with Flahavan's Porridge for the 2020/21 season of our Primary School Cross Country League. Over the last ten years Flahavan's has invested considerable resources in cross country at grassroots, taking the league to the next level. The brand's support has led to a steep increase in participation of primary school children across Northern Ireland.
"Due to the Covid-19 pandemic we have postponed the Flahavan's Cross Country League from our original start date in October, to the end of January. Subject to Executive restrictions and Sport NI guidance, round one will start on 29th January 2021, with round two kicking off on the 5th March 2021."
"Over 200 schools across County Down, Southern Area, Causeway Coast, County Tyrone/Fermanagh Area, County Antrim, and North West, are expected to take part in the league this year."
"Each round will take place over one week, from Friday to the following Friday, across the six regions. We are hopeful we will be able to proceed in as close a format as possible to previous years, but we may have to adapt our approach as restrictions evolve. Athletics Northern Ireland also has robust and stringent protocols in place for specific cross-country races which we will be adhering too."
"We look forward to continuing to work with Flahavan's to promote the Primary School Cross Country League after a difficult year."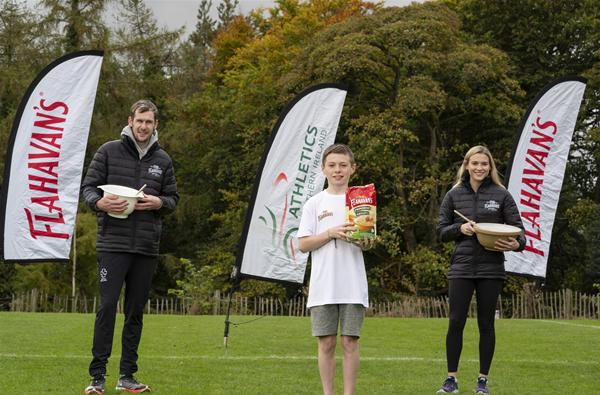 Brand Marketing Manager for Flahavan's Porridge, Alice Quirke, added,
"We are delighted to mark the tenth year of the Flahavan's Athletics NI Primary School Cross Country League. We in Flahavan's are proud to have partnered with such a highly esteemed organisation to support young aspiring athletes with oats and oat-based products for a full decade!
"To be able to celebrate our ten years of support for Athletics NI, whilst adhering to the regulations and restrictions is very important to us. The events may look slightly different this year, but I trust the kids and the staff will all create a memorable and exciting event regardless.
"Good luck to all of the competitors taking part this year – we are confident this will be the beginning of a very exciting sporting journey for many of them."
"I am delighted to return as ambassador once again for Flahavan's and Athletics NI's ten-year Anniversary," explained 800m Irish Bronze Medallist Katie Kirk.
"I love seeing the enthusiasm and passion for athletics amongst the participants and their potential to become athletes in the future. It's very satisfying to be given the chance to share my knowledge, and to help them to achieve their goals in any way I can!"
Michael McKillop, Paralympic Gold Medallist, added,
"As a para-athlete, I am extremely passionate about inspiring young people of all abilities to get involved in sport. Through my role as one of this year's Flahavan's ambassadors, I will share my top training tips and encourage a healthy and balanced diet. This could be the start of an exciting career for our sporting stars of the future, so I encourage all schools across Northern Ireland to get involved!"
The 2020/21 Flahavan's Porridge Athletics NI Primary School Cross Country League will get underway in January 2021, for further information on taking part in the League, please contact the Athletics NI office on [email protected] or 028 9060 2707.
To learn more about Flahavan's full range of products, and how you can fuel your run with tasty recipes, follow Flahavan's on Twitter, or on Facebook and Instagram.