'A Thousand people, sun shining, it doesn't get much better'
It's Bangor 10k weekend, and obviously we can't be with you this year, but here's a quick reminder of all that is good about the event. We look forward to welcoming you again, when the time is right.
[youtube https://www.youtube.com/watch?v=65dSK6YVVFI?feature=oembed]
A brief history of the Bangor 10k (results hyperlinked to each year)

The back end of September means many different things to many different people – the last few days of an astronomical summer, Kodak moments in parkland and forests with leaves turning golden brown, or shops rolling out their festive fayre with less than one hundred days to Christmas! In the running world, attention normally turns to possible world records at the Berlin Marathon, but closer to home, and for the past fifteen years, the last weekend in September means a trip to the seaside and the Bangor 10k.
In its high profile days as the Bangor Classic, back in the 80's and 90's, big name sponsors such as the photography giants Kodak offered significant prize pots, which in turn attracted stellar fields of recognised stars such as Jerry Kiernan, Gerry Curtis and Zola Budd, but over time the event slipped down the pecking order and eventually petered out amid difficulties with course safety and the rising costs of operating.
Fast forward to 2005, and a certain symmetry, with a new race establishing a starting area on the same green space in front of Bangor town hall where its previous incarnation had hosted many thrilling finishes. The new course promised a flat and fast alternative, with crowd pleasing stretches down Main Street, coastal views along Seacliff Road, and a morning for the communities of Ballyholme and Groomsport to cheer their friends and loved ones as they hurtled past, on their way to a showdown between body and mind on the infamous rise up Shandon Drive.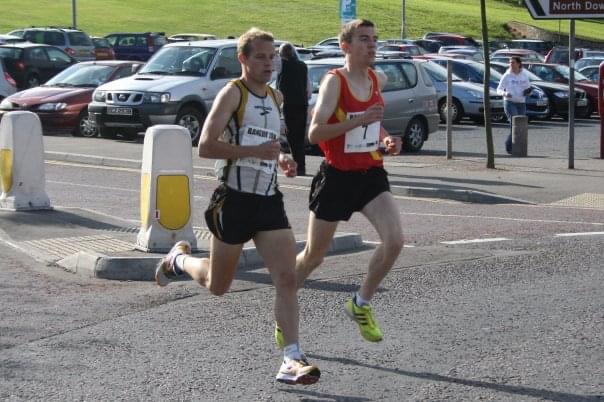 Despite an undulating homeward leg, the new course was certainly to the liking of the pacesetters during the inaugural race in 2005, St Malachy's Joe McCallister (28:58) taking the first of his six victories at the Bangor 10k, from Kenyan visitor Joesph Kibor (29:06), Paul Rowan (Willowfield) in 29:30 and Thomas Frazer (St. Malachy's) 29:56. Lagan Valley's Jill Shannon (34:15) took the ladies honours, followed by Julie Butler (Omagh Harriers) in 34:51 and Shannon's clubmate, Suzanne McCormick (35:25), unfortunately it later transpired that the course was 200-300m short, none of the PBs would count, and to this day no one has officially broken 30 minutes on the 'new' Bangor course.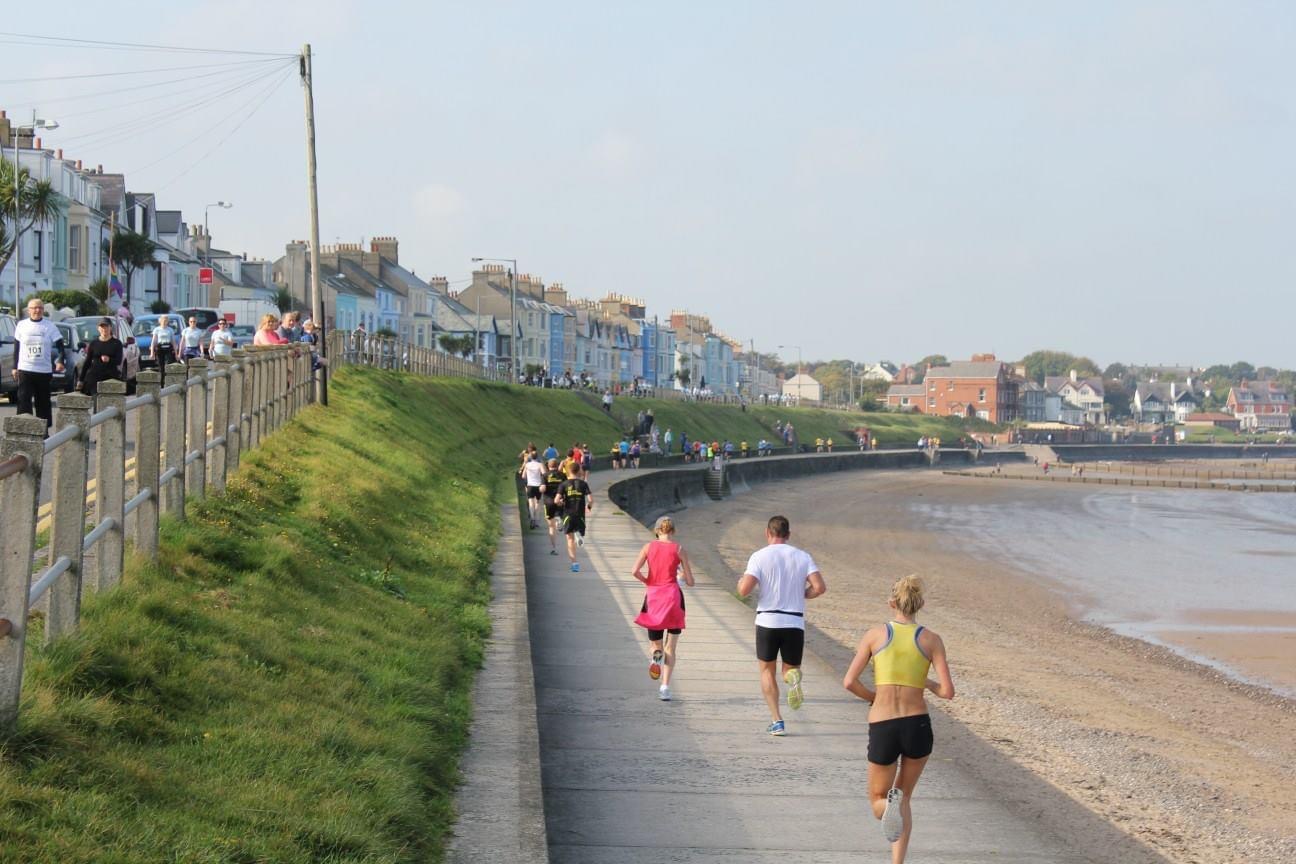 McCallister (31:16) and Shannon (35:25) were top of the class again in 2006, a year noteworthy for the emergence of a youthful Stephen Scullion (32:15/5th) on his first foray away from the track and onto the roads, whilst 2007 saw the St Malachy's man complete his hatrick in 30:58, on a day when Pauline Curley (34:54) was first lady, and two future Northern Irish record holders made their Bangor debuts, Kevin Seaward (31:06) finishing as runner up, with Paul Pollock (32:42) in eighth.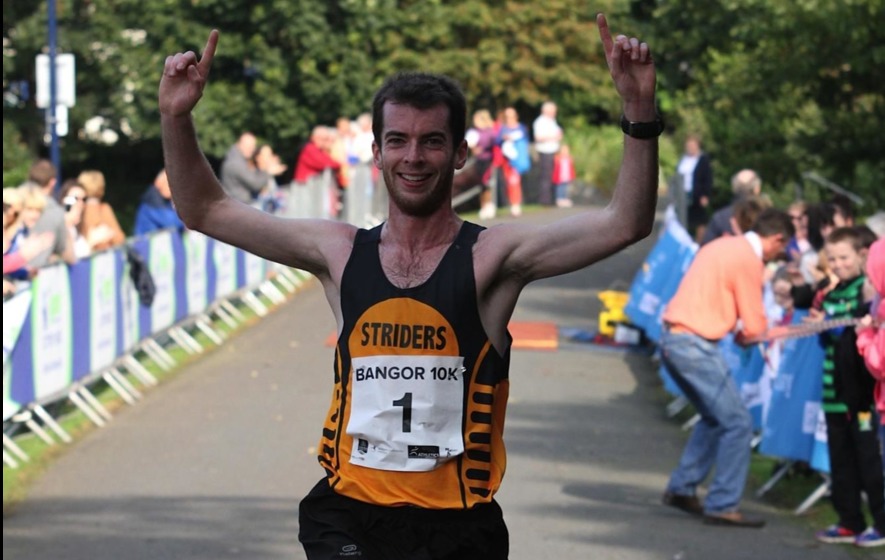 Pollock (30:38) was back in 2008 to take the first of his five Bangor wins, ahead of Gareth Turnbull (30:50) and McCallister (31:32), while Suzanne Higgins (37:09) was the leading lady. McCallister (30:06) was far too good for the competition in 2009 (with Gladys Ganiel first lady in 36:17), while a much anticipated showdown in 2010 went the way of Pollock (31:23), with McCallister close behind in 31:31 and Breege Connolly the ladies winner in 36:20.
McCallister (31:25) claimed the most recent of his Bangor titles in 2011, with future Olympic steeplechaser, Kerry O'Flaherty taking the ladies honours in 35:14, while Pollock was back on the start line in 2012, and warmed up for the World Half Marathon Championships in Bulgaria, with a comfortable margin of victory and a time of 30:19, Gladys Ganiel was again the best of the ladies in 36:49.
Fresh from the Marathon World Championships in Moscow, Pollock (30:45) was well clear of a chasing pack that was headed by Keith Shields (31:45) in 2013, with Dromore's Julie Turley (36:39) the ladies champion, while 2014 saw only the third new name added to the men's trophy, Gary Murray taking the silverware in 30:29, and Louise Smith the ladies title in 37:56. Many of the big names favoured the Berlin Marathon in 2015, Pollock and Seaward seeking Olympic qualifying times for Rio 2016, but in their absence a five way battle for honours between Francis Marsh (34:11), Lindsay Gordon, Ben Morrow, Paul Rowan and Brendan Grew went the way of the North Down coach, much to the delight of the local support, while Breege Connolly (35:52) was again first lady (8th overall).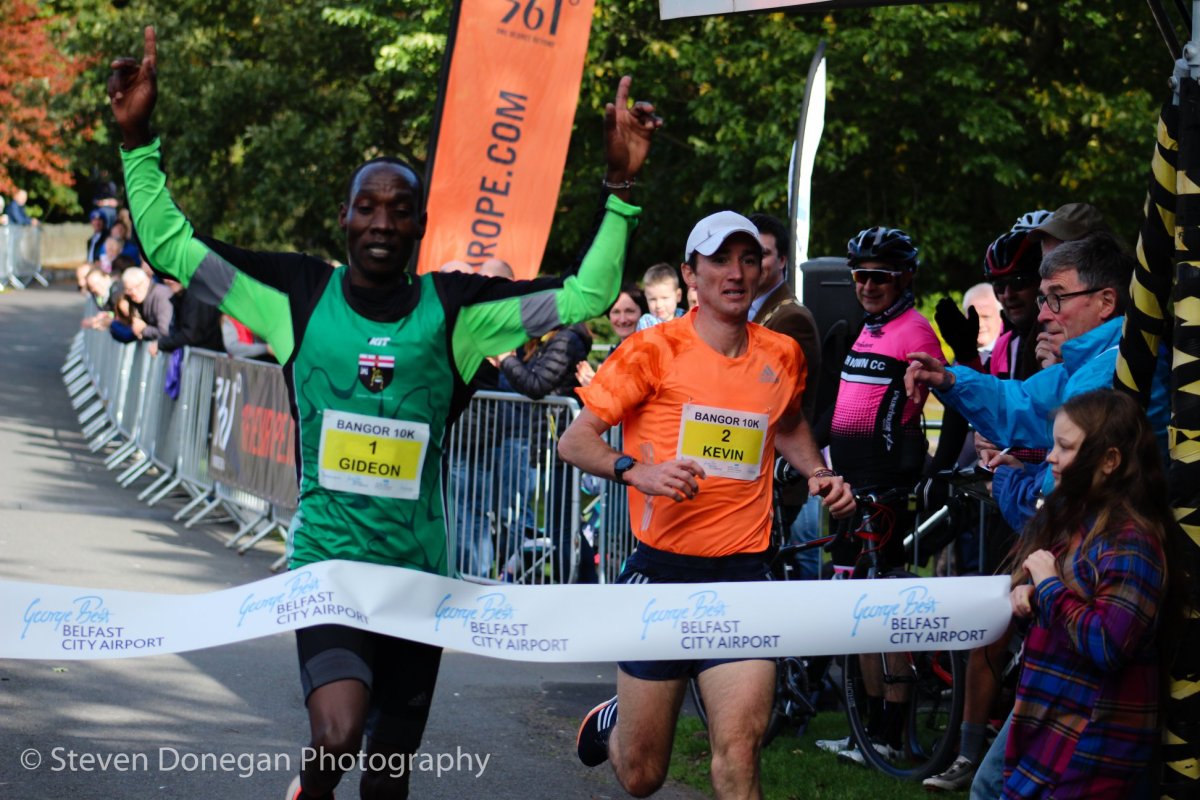 Pollock (30:40) won a hard fought battle against Freddie Sittiuk in 2016, with Laura Graham taking the ladies honours in 37:01, the Mourne Runners lady slashing that time to 34:35 in 2017, to successfully defend her title on a day when Gideon Kipsang (30:02) claimed the first of his. 2018 saw the event awarded 'Championship Status' and delivered a fitting finale with the tightest finish in Bangor 10k history, Kipsang challenged by Kevin Seaward (by now an Olympic athlete with a 4th place finish in that year's Commonwealth Games on Australia's Gold Coast). After an 'eyeballs out' sprint along the finishing straight into Ward Park, both men were awarded 30:21, with Kipsang taking the all important win, by the barest of margins. An excellent day for North Down was complete when Jessica Craig claimed the ladies honours for the host club, in 36:42.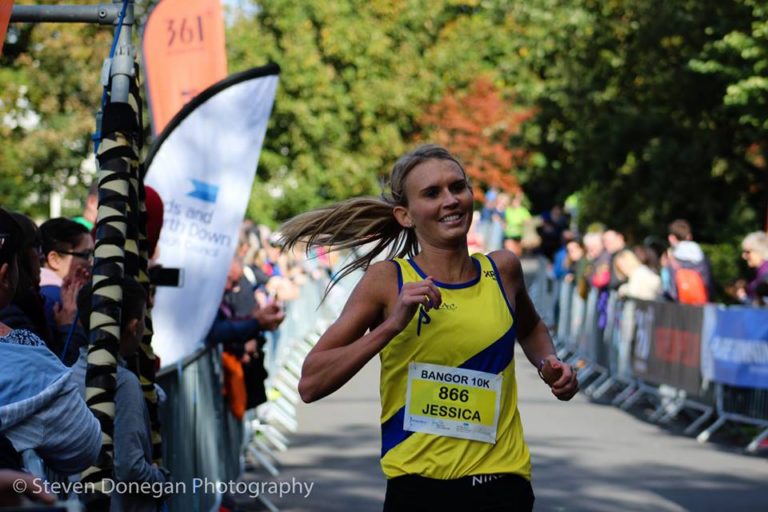 Kipsang duly completed his hatrick in 2019, 30:15 giving him a more comfortable margin over a chasing pack, from which Declan Reed (30:57) emerged, to take the NI & Ulster title from a plethora of high class rivals, while Emma Mitchell (34:44) was a class apart in claiming her first Bangor win.
We'll not be racing this year, for obvious reasons, so with time on our hands and stats to ponder, one can only imagine how a race across the past fifteen years would pan out. Pollock, Scullion and Seaward have all broken the NI marathon record in the last twelve months (Seaward the holder after posting 2:10:08 in Seville), Scullion recently smashed the Half Marathon mark (61:08 in Larne), but Pollock has the fastest 10k of the trio (28:59 in Brighton in April 2019). No one should discount Gideon Kipsang's unbeaten run (or his course record), but Joe McCallister is the most successful athlete in the history of the race, and has a sub 30 PB to his credit so there's definitely an argument to be made for all five competitors. There's certainly enough to suggest it would be an epic battle up Shandon Drive, along College Avenue and a blanket finish in Ward Park. Amongst the ladies, Jill Shannon's, Pauline Curley and Kerry O'Flaherty would all come into the equation, and with the endurance qualities of a 2:37 marathoner, Laura Graham would certainly challenge, as could the ever improving Jessica Craig, but it's hard to look beyond Emma Mitchell, the Northern Ireland record holder at 5000 and 10000m, an athlete who has already broken 33 minutes at the Leeds Abbey Dash.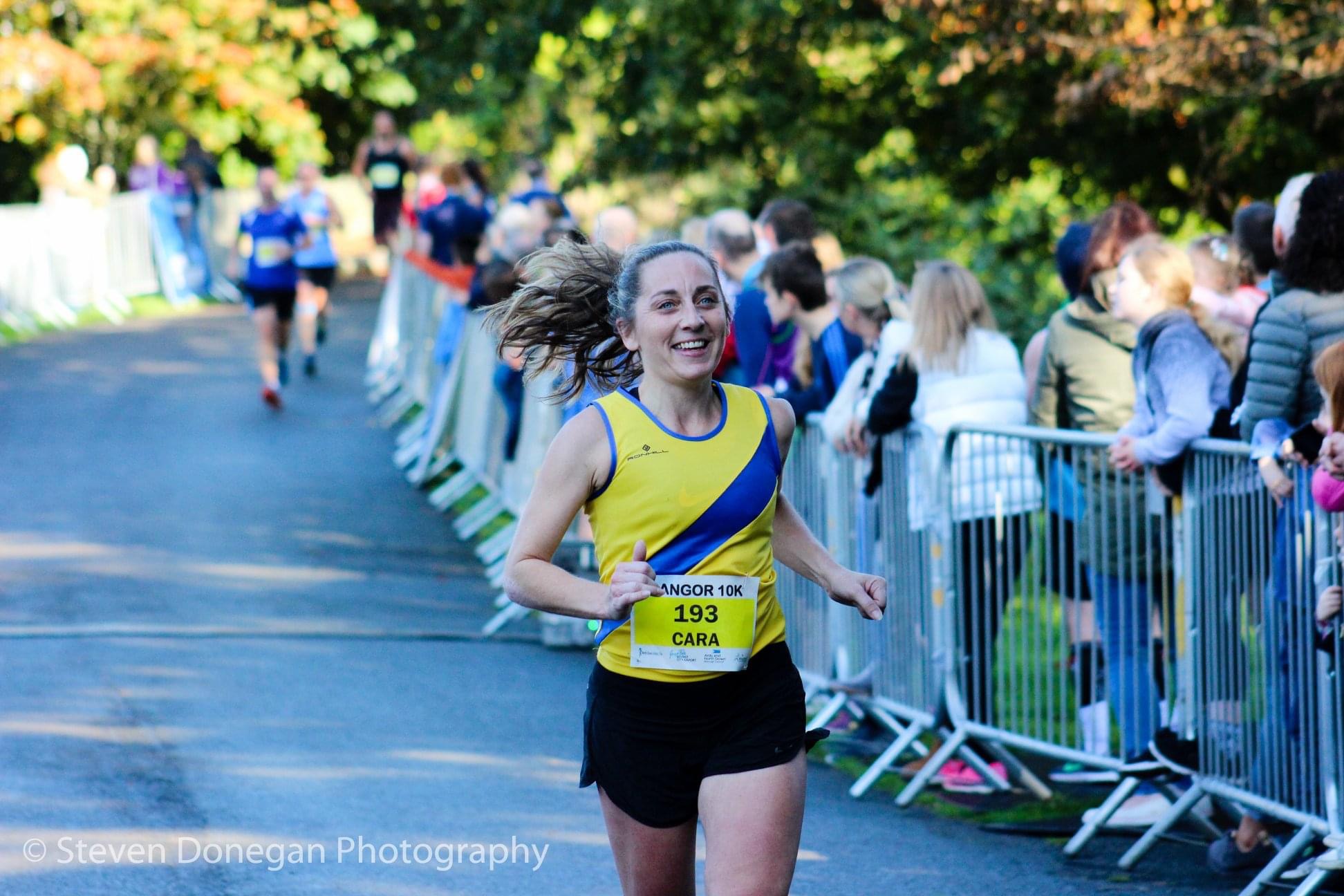 Of course the flying machines at the front usually grab the headlines, but it's worth noting that while the 2005 event offered some savage racing at the sharp end of proceedings, only two hundred athletes took part in total. In the past couple of years sell out fields of 1000+ have featured club runners, charity fundraisers and all sorts of new running groups that have made the event a huge source of pride for everyone at North Down Ac. We are also indebted year on year to the goodwill of the local residents and to our club members, who turn out in huge numbers to assist before, during and after the big day, with all manner of jobs, some as obscure as speed ripening 1000 green bananas! Wherever you're running this year we hope you're keeping well, rest assured we'll be bursting to give the starting orders, whenever the time comes to return……….